A few times last season I found myself asking myself 'Why do I do this?', particularly after Halloween and the home defeats to Fulham and West Brom. But then there are the other times, like Chelsea away, where you realise the answer to that question is for games like that - and at the time, it's easy to think that you'd happily have a few dodgy results for a result like that. On the flipside, though, at the time of uninspiring and embarrassing defeat, you'd rather you had won that game and lost to a top side.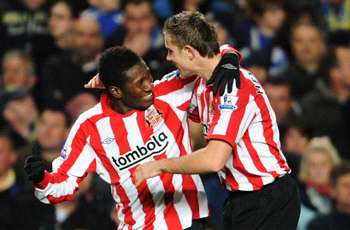 Gyan and Henderson celebrate the second goal at Stamford Bridge.
Despite a few downs last season, probably more downs than ups in fact, it was a decent season for Sunderland, achieving our aim of finishing in the top 10 on the final day as the lads ran out 3-0 winners at Upton Park against already relegated West Ham. Despite the win, though, we had to rely on the result at St. James Park where Newcastle played host to West Brom. The home side were 3-0 up at half time and our game suddenly became irrelevant. Step up Somen Tchoyi. A second half hat-trick from the Baggies' forward meant that we had leap frogged them in them the league and secured 10th position by the skin of our teeth. That was one of the better points of the season.
In his final game for Sunderland, Zenden scores the first at Upton Park.


My point is; if ever you're unhappy with the team's performance then at least you can be safe in the knowledge that our club is going in the right direction, and with an owner we can trust and a Chairman that is a legend on Wearside, we're definitely in the best position off the pitch we've ever been in. As for on it, Steve Bruce is building a very good side and it really looks like we're going to kick on this season. Realistically, another top 10 finish would show stability and prove that last season wasn't just a fluke, but there's the tiny part of every Sunderland fan that, deep down, knows that Europe is a real possibility. We're used to being let down however, and for me, and your average fan would realise that 9th is a good finish and still progression. Baby steps is the key, we're not ready for Europe just yet. Give it another year or two.
Niall Quinn and Ellis Short. We're in safe hands.
It's a massive cliché, 'Rome wasn't built in a day', but at the same time it's true. Just remember that 6 years ago, we would have already started our season in the Championship, and we would already have lost. When the 'Magic Carpet ride' started, there was a 5 year plan in place. The 5 year plan was to get us back to the Premier League, in that 5 year, we've been promoted, survived, survived, survived comfortably, and finished in the top 10. We're way ahead of schedule and although we've earned the right to be where we are, we still have to be grateful to everyone involved that we are here. Back to my point; progression takes time in football, we have to be patient and accept that progression may be slow. Also, it'll not be plain-sailing and straightforward, there will be hiccups along the way. Back the lads, though, and we'll get there in the end.
Sunderland win the Championship, 4 year ahead of Schedule.